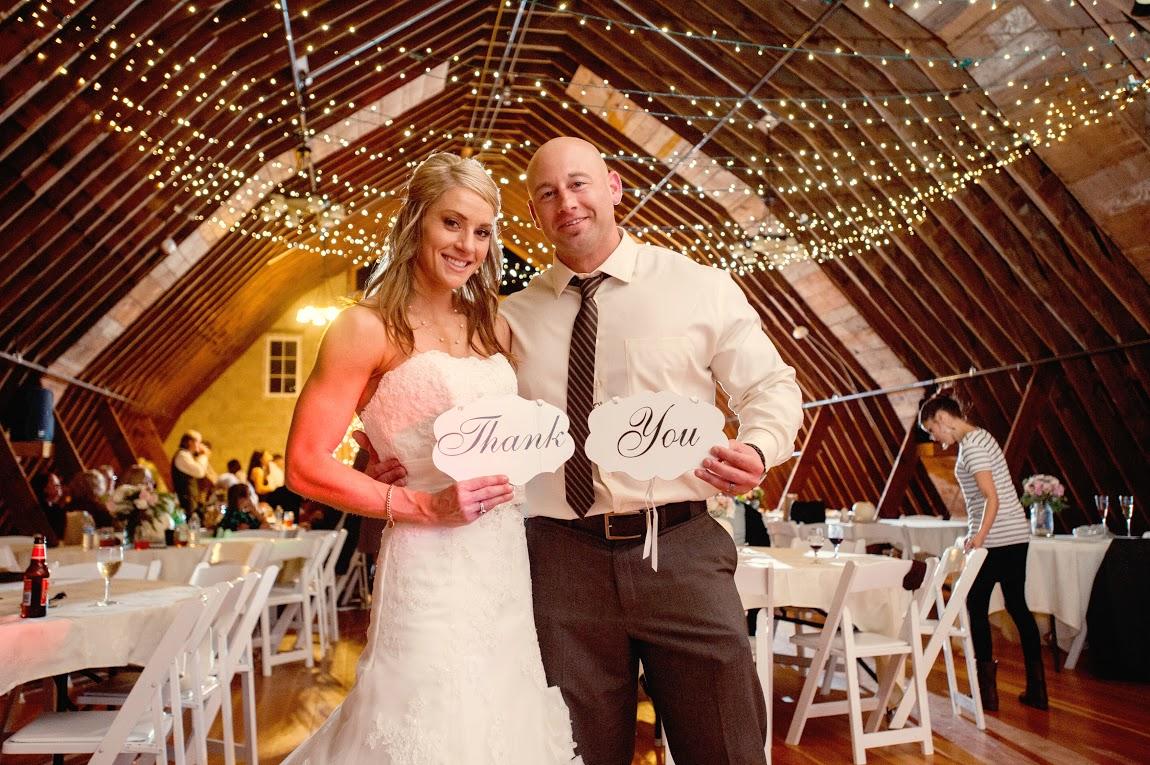 Jed was our wedding reception DJ and he absolutely rocked it! The thing my husband and I most appreciated about Jed is that he is personable and fun to be around. It was important to us to surround ourselves with vendors on our wedding day that would make the day better, not more stressful. He is flexible, easy-going, and organized. Music was THE most important thing to us, and we completely trusted Jed to do a great job. Our dance party went from 8pm to 11 pm…and the floor was absolutely packed for all 3 hours! I literally did not come off the dance floor once at my reception. We gave him a list of the songs we wanted, and he took our small list and created magic. His set up is super professional with great lights! Our guests could not stop talking about what a fun wedding we had. It's been 2 months now and people will still make comments, send me random texts or tell me funny stories from the night (most involving our awesome dance party). Jed is the music man! Good luck with planning. Maggie & Paul
Jed provided the entertainment for our wedding on July 4, 2014, our venue was the Pine River Ranch. I can't thank Jed enough for such an amazing job he did. The music was exactly what we wanted from start to finish. The transitions through each phase of the wedding were perfect, he was on queue in every aspect of our event. The communication leading up to the wedding, the flexibility for payment; he just did an incredible job. I would also add if you are using the Pine River Ranch, they have worked with Jed and he knows exactly how the venue works, rules, noise level, set up, and all the extra work that you don't want to align with your DJ, Jed has it under control. It was so nice to fill out the questionnaire, provide the music we wanted, make a payment, and it was so carefree. We also received compliments from every guest at the wedding about the music selection and delivery. Jed did a fantastic job. David S.
JMG Entertainment ROCKS…literally! Rich & I couldn't have been more thrilled with your expertise, professionalism & can-do attitude for our wedding at Silvara Vineyards. You provided such memorable entertainment for our guests & offered great support to the both of us to make the day seamless. Not only did you cue everything perfectly, you served as a day-of coordinator paying attention to our detailed timeline. We thank you for helping complete our perfect day & highly recommend you to DJ any future event. With GREAT appreciation, Bree & Rich Kendrick
Jed was great ­ we met with him once, filled out his questionnaire and sent him a list of songs, and he was off and running! It was important to us that people be dancing at the wedding, and Jed delivered. He picked the right mix of songs to keep everyone moving, and both young and old folks were out dancing. He did some good mixing between songs (ie, better than just the "one song ends, the next song starts" you'll get with playing songs off your iPhone) and the lights/smoke/DJ setup all looked great. Stephen
JMG Entertainment provided the sound systems for both our wedding ceremony and reception, including lighting and mic for the preacher, as well as speakers for everyone to hear at the outdoor ceremony.Jed had a rough go of it with me as a bride! I forgot to send him our play-by-play of the event with times for everything. Luckily, Jed is a true professional and handled it all with stride…and did a fantastic job for us!!!I contacted Jed via e-mail to begin with and he was very attentive, answering all of my questions. When we started getting closer to the wedding, I decided to add a few extra things to my package, and he accommodated all of it without missing a beat. He was really easy to work with…even from a long distance. Normally, brides and grooms are able to meet with their DJ, and I didn't get to meet him until the day of the wedding, but he was professional, had everything done on time and perfect and he kept the music going and fun all night. Even got several of the die hard NON dancers to get out there and shake their booty. I definitely highly recommend Jed and JMG Entertainment for your next event. You won't regret it! Jenna
Jed was fantastic! We had to book very close to the event for a variety of situations and he was so enthusiastic and professional that we knew he was the right choice. On the day of, there were a lot of changes (venue, equipment we thought would be available that wasn't etc) and he was incredibly flexible about adapting to the situation and making it all happen without us even knowing. It was like magic :)We were only able to connect with him via email and once over the phone because of our hectic schedule before the wedding but he absolutely nailed everything. Not only did he deliver on our little-known music requests but he also impressed us with his ability to feel out the crowd and keep the flow all night. At the end of the evening he apologized for not playing more slow songs, but we assured him that what he played had been absolutely perfect for our group of friends and family.Everyone was commenting about how great he was and how much fun they had. I've already recommended him to a friend who is getting married in the area. Thank you Jed! Sara
I would like to take a moment to let you know how impressed we were with you at our wedding! We gave you very little music suggestions yet everything you played was perfect and music that we both liked. I would recommend your services to anyone looking for a DJ for any type of event. If I ever need a DJ again you will be my first call. Thank you again! Brittany
Jed DJ'ed for both our ceremony and reception this summer and he did an AMAZING job! The dance floor was packed the whole night and Jed did a great job keeping the flow of the reception throughout the night. We hadn't actually met Jed in person, since this was a destination wedding for us, but we were confident that he wouldn't disappoint and he exceeded our expectations. Hire Jed for your wedding or party! Caitlin L.
Loved getting to work with you today at Ben and Becky's wedding! Can't wait to work with you again! – Emily with Lifesong Photography
Big props to the DJ! You were totally awesome. So many people have commented on how great you were. Thank you for making it so special! Tena
My husband and I had the pleasure of having JMG Entertainment as our DJ for our September 20, 2013 wedding at the Highlander Golf Course. From beginning to end this was by far the easiest part of planning our wedding! Jed had an extremely busy season with events both the weekend before our wedding and the day after ours. I would have never known he had so much going on as he made us feel like his number one priority. We had last minute changes within the venue as to location of the ceremony and he made adjustments that worked out wonderfully. He also used a rough timeline to make sure that everything we wanted to get done (intros, flower/garter toss, toasts, announcing dinner, and first dance) was accomplished. I'm not sure this was part of his normal services but it was a huge help as we didn't hire a wedding planner. We provided a list of songs that we wanted played as well as a general idea of how we wanted the wedding to flow and he accomplished this as well! The ceremony went smooth and the reception had people on the dance floor until the night was over. I had numerous compliments from friends and family about how well the night went. There are a few things I would change about my wedding if I could go back, but having Jed as our DJ is not one of them. He is professional and amazing at what he does. You can tell from talking with Jed that music is his passion and being a part of people's special events is his calling! Shaunna & Adam
Thank you so much JMG Entertainment for providing such great entertainment for our guests at our reception at the Cashmere Riverside Center. You showed a great deal of professionalism as well as enthusiasm during the event. A number of our guests complimented us on our DJ afterwards, and that meant the world to us. We greatly appreciate your effort in helping create such a memorable reception for us. Andrea
Thank you so much. You were absolutely wonderful! It really helped so much to have you willing to come to do the rehearsal as well as the wedding. You went above and beyond what we hoped for. The music was great and you were more like a director of the wedding. Thank you! Monique and Ryan
You helped make our wedding special. Thanks for you all you did Jed. Randi and I are so glad we chose you to be our DJ. We would highly recommend you to anyone. Take care! – Loren
Jed…My friends and family had a great time at the wedding…Thanks for helping things run smoothly!!!! You did great!! Tyler
Jed, Nara & I wanted to thank you for helping make our wedding such an amazing day. The music was bumpin and everyone had a great time. Thanks for keeping the beat moving throughout the whole night! Chris & Nara
Jed, Thanks so much for your great job DJ'n our wedding! You definitely kept everyone on the dance floor. Let us know if you ever need recommendations. Brooke & Jake
Jed, Thank you for making Justin and Desiraes wedding foot loose! Denise (Mother of the bride)
Jed, Thank you so much for DJ'n our wedding! You were perfect 🙂 We had the best time! Thanks again! Casey & George
I just wanted to say thank you from the bottom of my heart. I am so sorry I hardly got a chance to talk to you or say goodbye after my birthday party. The night was a whirlwind and it flew by so fast. I can't tell you how perfect the night was and you were a huge part of making it that way. The music was PERFECT!!!!! The reason I probably didn't really have a chance to talk to you was because I didn't need to. I didn't want to leave the dance floor 🙂 All of my friends and family had the best time of their lives…. literally that's what they said. The flow of the night couldn't have been any better and it is all thanks to you. I am speechless!!! If there is ever a time in the future that we need a DJ again, or anyone for that matter, I know who to call. You are AMAZING and are the best as far as I am concerned at what you do. I can't say thank you enough Jed. All I can say is WOW. Our night was perfect and a night I will never forget. Thanks again. Brooke
Jed was amazing to work with. He was easy to communicate with leading up to the event and made us feel at ease the entire time. He understood and successfully executed our vision and did not need much direction to do so. He was great with our guests and took song requests when they came. From the ceremony to the dancing, he was organized and spot on with everything. His set up was discrete and looked great, his equipment was top of the line and his music selection was perfect. We could not be happier with choosing Jed. If you are fortunate to have him available for your event, I can't recommend him enough! 10/22/19 by John S. 
JMG was the best DJ ever! We are so glad we found him for our wedding. He kept the dance party going right up until last call. We gave him our song request form but hadn't met him before the wedding and he absolutely nailed it! He was on time, had all the equipment promised, and even stayed a bit late so we could keep the party going a little long. I would definitely hire him again. If you can afford the little extra splurge for 2 systems and the light show – DO IT. You will not be disappointed! 9/18/17 Heidi S. 
Jed and his assistant helped make my wedding phenomenal. My wife and I left our wedding weekend raving to each other about how well the music was done. Every song queue was hit perfectly, making the ceremony feel like the epilogue to your favorite romance movie. My favorite moments during the ceremony and reception are unforgettable because Jed did his job PERFECTLY. He catered to all our requests, and let us make our big day truly ours. He worked in the songs we wanted for our dance party with songs we didn't even know we wanted, and brought the dance floor to life. Jed help us make karaoke a reality at our wedding, which made our reception unforgettable for our guests. I don't write a lot of reviews, but when I experience service like Jed's, I'm compelled to tell everyone about it. He and his team were experts. Bonus point, their sound set up was discrete and beautiful. I cant speak more highly of JMG Entertainment. Thank you so so so so so much Jed. A billion stars. 2/2/20 Kirk D. 
The DJ and Photographers were the most important people to hire when we were planning our wedding. We researched like crazy and found what we thought was the best DJ in the entire area and possibly state. With that being said, my standards were very high because we have seen so many lame wedding DJs.
Jed exceeded our expectations!! Our pre-ceremony, ceremony and cocktail hour went perfectly with great music! He stuck to our requests but added amazing songs that really set the tone for our perfect day.
When it was time to dance, the dance floor was absolutely packed the entire night. We left this entire part up to him, only giving him a few songs we wanted to hear and the ones we didn't. I have never had more fun dancing at a wedding but the best part is, two months later, our friends and family are still talking about our incredible music and fun dance floor!
We were incredibly happy with our decision to hire JMG Entertainment for the most important party of our lives! We highly recommend you snag him up before somebody else does! Jessica H.
Our Wedding DJ, Jed, rocked it! There were a few things that were going against him on our night: last minute changes to the play-list and one very over-demanding family member. But he kept his cool and gave us the best dance party of our lives.
When my wife and I went to weddings throughout the year, leading up to our own, we would critique most aspects of the wedding we were attending. We came to the conclusion that a good DJ is more important than good food or a good venue. Now don't get me wrong, we wanted a "good" everything for our wedding, but we saw people consistently leave early if the DJ preformed poorly. 
I spent my time Yelping and Googling DJ's in and around Leavenworth/Wenatchee, and JMG Entertainment had great reviews, so I reached out. More than anyone else, Jed came across as personable and professional. He gave me the confidence that I would get what I wanted, the best night of my life. 
JMG Entertainment is highly recommended.
Thanks again Jed! Nate M.
Jed Gossman was a phenomenal choice for a DJ at my 30th Birthday event. Music really sets the tone for a memorable event, and that is exactly what Jed did is give us… the most memorable party ever!! I had 110 paying guests at my 30th Birthday party and people were commenting for weeks how it was the best party they have ever been to… and that the music was AMAZING!!!! He was informative on what he had and what he was going to do. He listened to my requests and made an unforgettable playlist for me and all my guests.
Jed went out of his way to make my difficult circumstances work!! He was the best DJ I have ever heard and I will hire him in the future for all my events. I would refer him to anyone knowing he can make your music dreams come true. Karie
We hired JMG entertainment to DJ the after-party of our wedding. We worked with Jed leading up to the wedding and he was great in his communication, providing a quote, and gathering information from us for the songs we wanted to hear played. The DJ (Gemson) did a fantastic job the night of, coming prepared with speakers and a light setup that turned the cabin where our after-party was held into a fun and continuous dance party. The DJ kept our party going until 1am, and was great in playing all the 'must-plays' we laid out on our request form. Thanks to Jed, Gemson, and the entire JMG team for a stellar party! 7/27/19 CJ K
Highly recommend Jed! He made our day extra special and impressed us with his skills. Many of our guest had so many wonderful things to say! Without him, I don't think our reception would have been as great as it was. Add the mirror to your package.. the guest loved it 1/26/19 Taylor
JMG has the benefits of a big company with comfort of small business. They ensure the customer gets exactly the service they need and provide assurance that they've never missed an event. James DJ'd for us and was great! He had all of our obscure music requests and kept up with multiple venue changes; the party never stopped! 8/24/19 Maile C. 
Jed DJ'd our wedding recently and he couldn't have done a better job – myself and my bride felt this, and tons of our loved ones commented on it in days following as well. He came highly recommended by many (including our photographer and venue), and exceeded the hype.He was prompt, professional, structured and on schedule in every way, but also flexible in every request that we made pre-wedding and also during the celebration.Aside from that, the music was great and the dance floor was packed all night – several people commented on this and how they've never seen a dance floor occupied all night at a wedding, but that night we did.
I'll recommend Jed to all of my friends and family in Central Washington who need a DJ. Thanks again, Jed. 2/20/18 Eric C.
We hired Jed to DJ our wedding in June. He makes a great MC for the key points in the reception (speeches, cake cutting, etc) and was great to work with for music selection. I'd highly recommend his services for any event.
What really set our wedding apart from any others was the Magic Mirror (a modern day photo booth)! It was a fairly new purchase on Jed's part and what a fantastic addition! If you can swing the extra expense, it was worth every penny and then some! Jed has a great selection of props and backgrounds to choose from and the photo customization was a breeze. Once the Magic Mirror opened up, the dance floor cleared and it became the focus of the reception. Literally, no one was dancing because they were all huddled around the mirror and having a blast. The photos are hilarious and it was the highlight of the reception! 9/9/18 Stephanie P.
Jed and his crew are amazing! Jed DJ'd our wedding at Karma winery and all our guests still rave about how much fun it was!! We did not want the night to end! He made sure every part of the ceremony, toasts, dinner, and dancing went off without a hitch. We even ended up wanting an extra hour and Jed was SO flexible.
The Magic Mirror was the best $$ i spent. Guests were using it all night and everyone had pics to take home!
HIGHLY Recommend. Will not disappoint.
Thanks again Jed!!!!6/20/19 Alexa S.